You are here
Our Services include Accounting, Financial Planning and Lending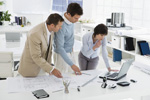 Glenferrie Group has developed traditional accounting practices into innovative client-focused services.
Specialising in accounting, taxation, investment and finance advice, we have the knowledge, experience and resources to help you to manage every aspect of your personal, family and business finances.
Each member of our professional team is fully qualified in their field of expertise, and our independent advice is based solely on what we believe will be absolutely right for you.
Gleferrie Group Services